Puff pastry cheese sticks
Easy recipe for preparation of tasty cheese sticks.
recipe,photo-recipe,puff pastry,semi hard cheese,Apetizers
Apetizers
Recipe
1.
puff pastry 1.1 lb (500 g) • chicken egg 1 pc
Use a rolling pin to spread the puff pastry on a floured board unless it has shape of a rectangle. Brush the whole pastry with beaten egg.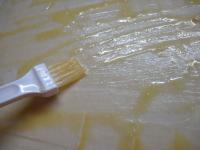 3.
Cut out rectangles (2 cm x 5 cm) from the prepared dough and place them on baking tin lined with parchment paper. Bake the sticks in preheated oven 15 minutes.
Bon appetit!