Cream Cheese - Apple Strudel
When you stricken with irresistible appetite for sweets, after good sunday lunch, prepare this easy and fast strudel.
recipe,photo-recipe,grated apples,soft curd,puff pastry,Strudels,Seasonal recipes
Strudels
Recipe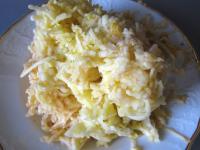 2.
raisins 5.25 oz (150 g) • soft curd 10.5 oz (300 g)
Soak the raisins in water for a while, drain, add cream cheese and mix it.
3.
puff pastry 10.5 oz (300 g)
Roll the puff pastry out into the rectangular shape on floured baking board. Do not roll the dough out neither too thick nor too thin. Spread the cream cheese over the pastry. Leave the pastry uncovered accross the upper edge cca 3-4 cm.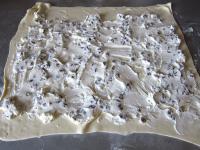 4.
sugar granulated 5.25 oz (150 g)
Spread evenly squeezed apples over the cream cheese layer and sprinkle with sugar.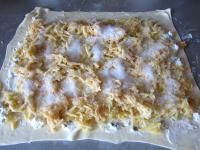 5.
chicken egg 1 pc
Roll the pastry. Brush uncovered edge with beaten egg and finish rolling.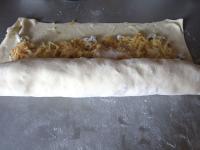 6.
Place strudel on the tray covered with baking paper. Brush it with beaten egg and poke with skewer.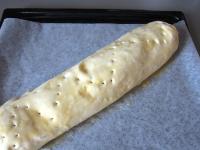 7.
Bake in preheated oven at 390°F (200°C) for about 40 minutes.
Bon appetit!