Sheep cheese cakes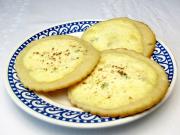 Tasty salty cakes with sheep cheese (bryndza) and spring onion filling.
recipe,photo-recipe,sheep cheese - bryndza,sour cream (fat 14-18%),Non-sweet pastry
Non-sweet pastry
Recipe
1.
potatoes 4.25 oz (120 g)
Wash the potatoes and cook them in skin. Let them cool.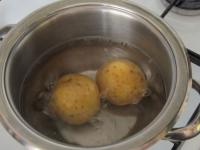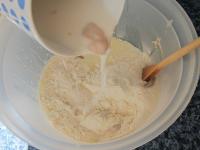 3.
Peel and grate finely cooked, cold potatoes.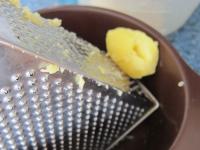 4.
spring onion 2 pcs
Cut spring onion into thin strips and then chop finely.
6. Cakes
Take pieces of raised dough and use a rolling pin to spread each on the floured board until thin and cut out larger rounds.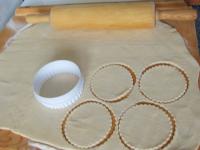 7.
unsalted butter 2.75 oz (80 g)
Place the rounds on baking tin with lined parchment paper. Brush each round with melted butter.
8.
Place one tablespoon of filling in the centre of the round and spread it but leave some space at the edges. We can sprinkle with some more salt on top of the filling to our taste (be careful, filling itself is salty enough)...
9.
... and sprinkle with crushed cumin.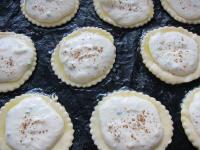 10.
Bake in preheated oven until golden (for about 20 minutes at 355°F (180°C)). The cakes are crispy when baked, when we put them in the covered pot they become soft.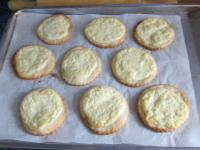 Bon appetit!