Veal cubes in white wine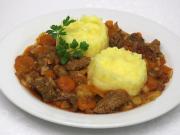 Juicy meat with vegetables. Serve with mashed potatoes.
recipe,photo-recipe,veal shoulder,carrots,parsley,celery,dry white wine,Veal,Gluten-Free,Lactose-Free,Seasonal recipes
Veal
Recipe
1.
veal shoulder 1.3 lb (600 g)
Wash the meat and cut it into cubes.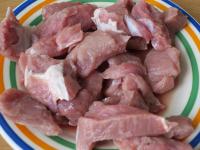 2.
carrots 7 oz (200 g) • parsley 3.5 oz (100 g) • celery 3.5 oz (100 g)
Clean the vegetables, wash and cut. Peel the garlic and cut into slices. Pour hot water over the tomatoes, pour off, peel the tomatoes and cut them.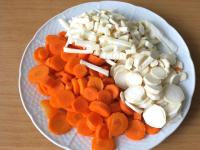 4.
Add meat to the onion and fry.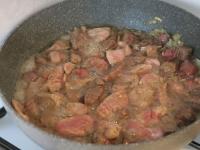 5.
tomato paste 6.75 tbsp (100 ml) • salt 1.5 tsp • ground black pepper 1 tsp • dry white wine ¾ cup (200 ml) • water
Add prepared vegetables, tomato puree, salt, spices to the meat and add wine. Stir and simmer under the cover, stirring from time to time for 30 minutes. If necessary, add a little water.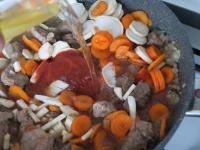 7.
... and simmer until soft (about 30-45 minutes).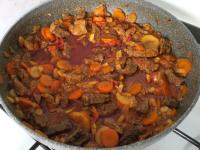 Bon appetit!