Bean Soup with Pork Sausage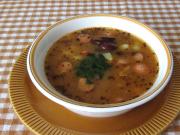 Easy snack soup, due to the use of sterilised beans very quick preparation.
recipe,photo-recipe,kidney beans,pork sausages,Legume soups
Legume soups
Recipe
1.
potatoes 1.1 lb (500 g)
Peel potatoes and cut into the small cubes.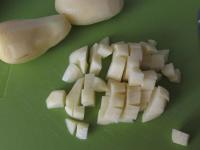 2.
water 1.6 quart (1500 ml) • salt 1 tsp • ground black pepper 0.5 tsp • crushed cumin 0.5 tsp
Hot water boiled in electric kettle add into the potatoes, add salt, black pepper and caraway, cook until soft (15 minutes).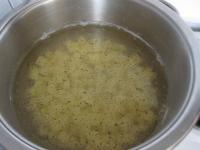 3.
kidney beans 1.1 lb (500 g)
Put sterilised red kidney beans without brine into the soup.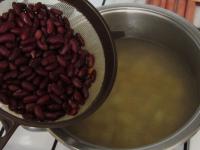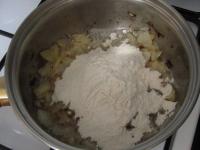 5.
ground red paprika 2 tsp • water 2.1 cup (500 ml)
Remove the saucepan from the heat, add paprika and pour in hot water. Place back to heat and cook properly.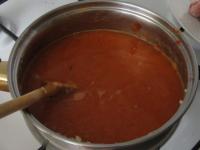 6.
Sieve the roux into the soup, mix.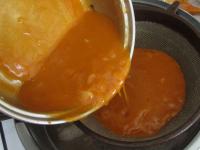 7.
pork sausages 8.75 oz (250 g)
Cut pork sausages into the thin circles, add them into the soup and cook all together for 5 minutes.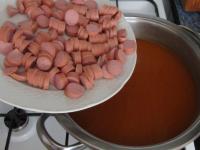 8.
garlic 5 cloves • marjoram 2 tsp • salt
At the end season the soup with peeled minced garlic, marjoram and salt at the needs.
Bon appetit!