Broccoli - cheese salad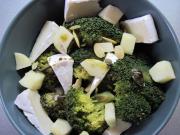 Simple broccoli salad with cheese.
recipe,photo-recipe,broccoli,Camembert cheese,Vegetable salads,Gluten-Free,Seasonal recipes
Vegetable salads
Recipe
1.
broccoli 10.5 oz (300 g) • colour pepper • apples 7 oz (200 g) • lemon-juice • Camembert cheese 4.5 oz (125 g) • pumpkin seeds without shell • pumpkin oil
Cut the broccoli into florets, lightly season with colored spices and steam in a steamer pot. Wash the apple, cut out the core and cut into small, uneven pieces. To prevent them from browning, sprinkle them with lemon juice. Cut the cheese into smaller triangles and add it to the broccoli together with the sliced apple. Sprinkle with pumpkin seeds and drizzle with pumpkin oil. Serve this quickly and simply prepared salad with, for example, baked chicken.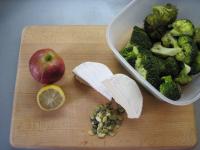 Bon appetit!