Cevapcici in Steamer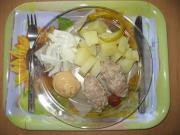 Cevapcici from steamer does not look very nicely, however its taste is undistinguishable from fried version, or even better. Minced meats contain pretty much fat in their raw state and these way of preparation eliminates further unwanted fat gaining.
recipe,photo-recipe,minced pork meat,Pork,Steamers recipes
Pork
Recipe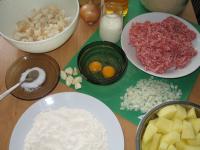 2.
olive oil • all-purpose flour / plain flour 2 tbsp
Brush the first (bottom) basket of steamer with the olive oil. From the mixture form small cylinders, coat with fine flour and place into the basket of steamer.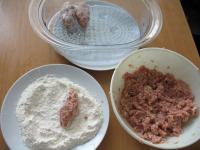 3.
potatoes 1.1 lb (500 g) • salt
Set the steaming time for 40 minutes, after 20 minutes add second steaming basket to which chopped slightly salted potatoes were placed, and steam further all together.
4.
Serve with mustard, chopped onion, eventually with feferons.
Bon appetit!