Fish fillet with onion
Diet prepared fish for the Christmas table and for usual lunch throughout the year.
recipe,photo-recipe,fish fillets,onion,Pork,Gluten-Free
Pork
Recipe
1.
fish fillets 1.8 lb (800 g) • salt • ground red paprika • onion 1.1 lb (500 g)
Let the fish fillet almost thaw. Then salt it on each side and sprinkle with paprika. Peel the onion, cut into thin wheels and cut the rest into pieces. Place a part of the onion cut into pieces on the bottom of the baking dish.
2.
Put the fillet cubes standing in the baking dish. Place 2 onion wheels between the two cubes.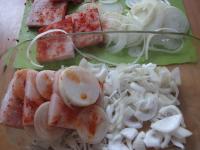 3.
unsalted butter 2 oz (60 g)
Disassemble the rest of the wheels and place them on top of the fillet. Put slices of butter on top. Close the baking dish and bake at 1355°F (735°C)F (735°F (735°F (390°C)C))F (735°F (390°C)F (390°F (200°C))) for about 40 minutes.
4.
Uncover the dish and bake the fillets at 895°F (480°C)F (480°F (250°C)) for 10 minutes. The baking time is longer mainly because the onions are well baked. The fish itself would be baked much earlier.
5.
Serve with mashed potatoes, cooked potatoes or potato salad.
Bon appetit!