Grilled Vegetable Skewers with Pesto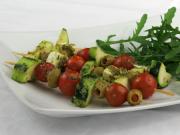 Delicious grilled delicacy not only for vegetarians.
recipe,photo-recipe,zucchini,cherry tomatoes,Vegetarian dishes,Grill recipes,Vegetarian recipes,Gluten-Free
Vegetarian dishes
Recipe
1.
pine nuts 0.5 oz (15 g) • basil 10 leaves • garlic 1 clove • olive oil 2 tbsp
Prepare pesto for marinade and mix roasted pine nuts, basil, and garlic. Mix everything together and pour it over with oil.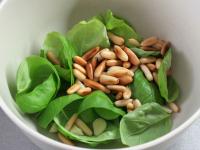 2.
Feta cheese 2.75 oz (80 g) • zucchini 5.25 oz (150 g) • cherry tomatoes 5.25 oz (150 g) • green olives 1 oz (30 g)
Cut feta cheese into cubes and zucchini into semi-circles. Alternately thread cherry tomatoes, cheese, zucchini and green olives onto the skewers.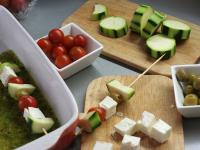 3.
Put skewers into pesto marinade and allow them to rest in the cold place for 20 minutes. Occasionally mix the skewers with marinade.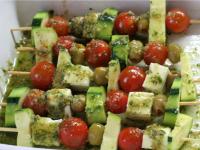 4.
Place skewers on preheated grill pan or aluminium foil on grill. Cook 4 minutes while turning occasionally.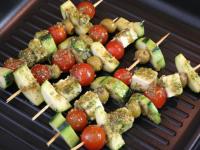 Bon appetit!