Vegetable sabzi with zucchini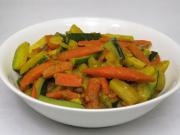 Stewed, spicy, Indian vegetable mixture of carrots, potatoes and zucchini. The number of portions depends on the number of side dishes served with this delicious vegetable. When served only with rice, these are about 4 potzions.
recipe,photo-recipe,carrots,zucchini,Vegetarian dishes,Indian cuisine,Vegetarian recipes,Gluten-Free
Vegetarian dishes
Indian cuisine
Recipe
1.
onion 2.75 oz (80 g) • unsalted butter 1.75 oz (50 g)
Clean the onion and chop it finely. Heat the butter (the best is ghee butter) in a pan and add the onion. Fry for a while.
2.
garlic 0.25 oz (8 g) • ginger-root 0.25 oz (8 g)
Clean the garlic and ginger, grate both.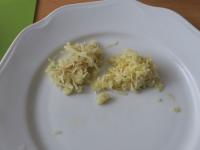 3.
carrots 14 oz (400 g) • potatoes 8.75 oz (250 g) • zucchini 14 oz (400 g)
Peel, wash carrots and potatoes. Cut into thinner, narrow slices. Wash the zucchini, cut into thirds. Thirds cut in half and these cut into french fries.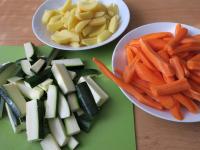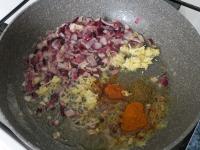 5.
water 1.1 cup (250 ml)
... add carrots and potatoes, salt, water and mix.
6.
Stew under the cover, stirring from time to time for 15 minutes.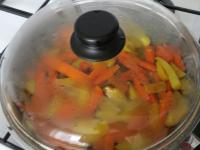 7.
water 3.25 tbsp (50 ml)
Add zucchini to carrots and potatoes. Stir and simmer for another 10 minutes. If necessary, add little more water.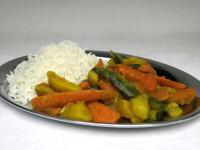 Bon appetit!