Simple cast buns
Are you lazy to fold buns laboriously? Try our recipe for raised cast dough to make buns. You can use as a filling mentioned cream cheese, as well as plum jam or poppy seed or walnut filling.
recipe,photo-recipe,semi skimmed milk 1,5%,fresh yeast,flour medium,cream cheese 40% fat,raisins,Pastry
Pastry
Recipe
3.
Process watery batter.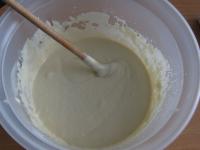 6.
raisins 3.5 oz (100 g)
... washed raisins.
7.
Place cream cheese filling accross the batter in shape of knolls in regular distance.
8.
Pour in remaining dough in thin layer over the cream cheese knolls, first lengthwise.
10.
Bake prepared cake in preheated oven.
11.
Bake at 180-375°F (190°C) for 45 minutes.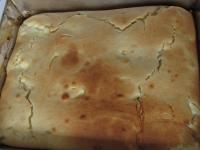 12.
Baked hot cake sprinkle with sugar.
13.
Cooled cake cut into the buns.
Bon appetit!