Stuffed Chicken Thighs in Aluminium Foil
Meat, filling, side dish - baked everything together. Individual portions are served easily - in aluminium foil, in which they were baked.
recipe,photo-recipe,chicken leg quarters,mozzarella cheese,onion,potatoes,Chicken
Chicken
Recipe
2.
chicken leg quarters 2.6 lb (1200 g) • mozzarella cheese 3.5 oz (100 g)
Wash chicken thighs and separate the skin from meat but the back skin remains attached to the meat - you will create a bag. Stir mozzarella into the filling.
3.
Stuff thighs with the filling.
4.
Sprinkle the surface with ground red pepper and season with salt. Use the trussing needle to sew the opening closed.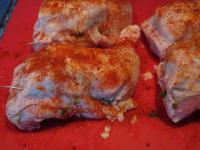 6.
Prepare aluminium foil. Always fold 2 pieces crosswise. Place potatoes in the centre of the aluminium foil pieces and lay separated onion on them.
7.
sunflower oil 4 tbsp • dried onion 4 tsp
Add prepared chicken meat, pour over with one spoon of oil and sprinkle with one teaspoon of dried onion.
8.
bell pepper (yellow,red,green) 5.25 oz (150 g)
Wash pepper and remove the seeds. Cut it into rounds and place it evenly on top of the chicken thighs.
9.
Fold the aluminium packages. First the inner foil...
10.
water ¾ cup (200 ml)
... and then the outer one. Place the packages in the baking tin and pour water in. Bake for 1 hour and 15 minutes.
11.
After this time, unpack the packages. Place one slice of butter on thighs and put them back in the oven for the next 15 minutes.
12.
Remove trussing needle before serving.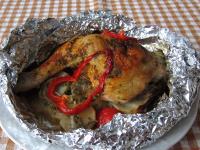 Bon appetit!