Unbaked coconut swiss roll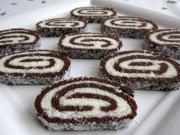 Simple and sweet titbir for feast days.
recipe,photo-recipe,biscuit cocoa,ladyfingers,rum,Roulades,,No-Bake,Christmas
Roulades
Recipe
1.
biscuit cocoa 5.25 oz (150 g) • ladyfingers 8.75 oz (250 g) • coffee instant 2 tsp • water ¾ cup (200 ml)
We mill the biscuits finely. We sprinkle them into the deep bowl. Then we mill the pound cake and let them prepared. We cook the coffe and let it become cold.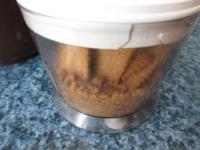 2.
unsalted butter 5.25 oz (150 g) • grated coconut 3.5 oz (100 g)
To the second bowl we chop the butter and we let it become soft. Meanwhile we weighed the coconut and the half of it we finely mill on the coffee grinder. Warning, we don´t mill for a long time to coconut doesn´t become oily.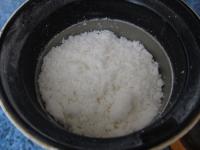 3. Preparation for the dough
powdered sugar 2.75 oz (80 g) • cocoa powder 0.75 oz (20 g) • rum 2 tbsp
To the milled biscuits we add sugar, cacao, rum and coffee. We scramble it well.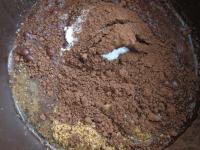 4.
We sprinkle the prepared pound cake and we develop the stiffer dough.
5. Coconut stuffing
powdered sugar 3.5 oz (100 g)
We scramble the butter until will be foamy. We add grated and milled coconut. We shuffle it well.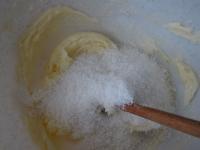 6. We create the swiss roll
We spread the dough on the silicon washer or on the smaller kitchen plate studded with sugar on the size about 30x40 cm (thickness about 1/2 cm). The edge of dough we align by roller to push the edges to the dough.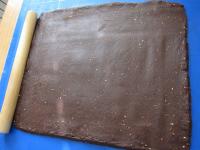 7.
The sleek dough we sprinkle with coconut and we softly push the coconut to the dough by roller.
8.
We put the foil on the dough (double reversed) in the appropriate size.
9.
We partially reverse the silicon washer on the longer side through the foil.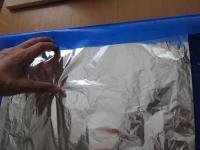 10.
We turn the dough with foil and with washer.
11.
We simply pull out the washer. If we don´t have silicon washer and we work with plate, it will be good if somebody helps us in rotating the dough.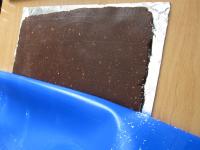 12.
We evenly spread the stuffing on the dough.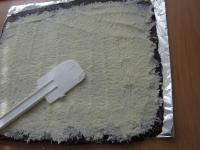 13.
We strongly twist the swiss roll by foil.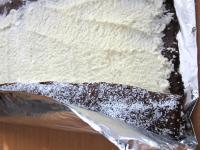 14.
We wrap it to the foil which we twist it with and we put it in the fridge for a few hours to solidify.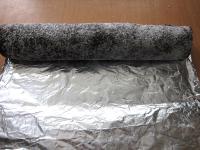 15.
We slice the solid swiss roll for about 0,5 cm slices and we store it in the chill.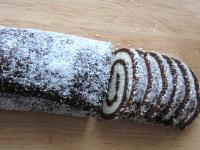 Bon appetit!