A quick hamburger made of meatloaf in a breadstuff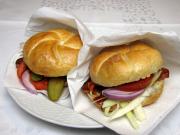 Tasty burger for a quick dinner.
recipe,photo-recipe,bun,Bavarian meatloaf,Pork
Pork
Recipe
1. Preparation of ingredients
bun 10 pcs
Cut the buns in half and put them open on a large tray.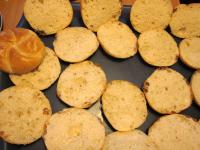 2.
white cabbage 7 oz (200 g)
Cut the cabbage into thin, shorter strips.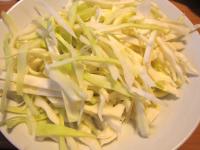 3.
onion 5.25 oz (150 g)
Clean the onion, cut in half, then into slices and disassemble it.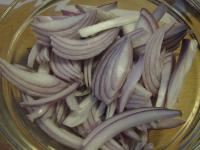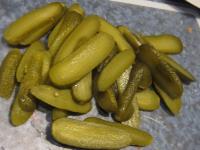 5.
tomatoes 5.25 oz (150 g)
Wash the tomatoes and cut into thin circles.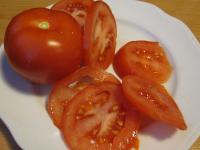 6.
dried tomato 1 oz (30 g)
To vary the taste of burgers, you can also use dried tomatoes, which you cut into strips.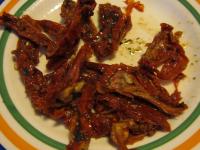 7.
Bavarian meatloaf 14 oz (400 g)
Cut the meatloaf into slices and cut it appropriately so that it fits into the bun.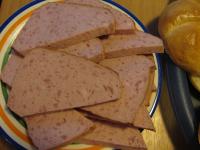 8.
Fry the meatloaf in a pan with a little oil on both sides.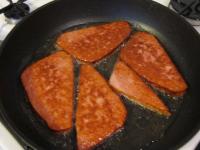 9. Creating hamburgers
whole Mustard 10 tsp
Spread the bottom half of each bun with mustard and place a hot meatloaf on it. Put an appropriate amount of cabbage and onions on the meatloaf.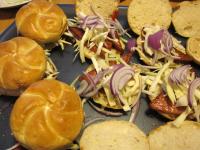 10.
Put tomatoes and cucumber slices on the onion. Finally, add ketchup. Close the buns, press gently and serve immediately.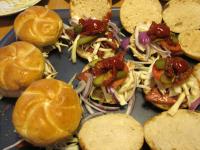 11.
If the burgers are not consumed immediately after preparation, put them one by one in a microtene bag, or wrap them in food foil and store in the refrigerator. Before serving, warm them together with the microtene bag in a microwave oven for 10-15 seconds at the highest power.
Bon appetit!