Apple and poppy seed eyes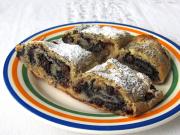 Delicious and juicy double strudel.
recipe,photo-recipe,apples,poppy seeds,poppy seeds,Strudels
Strudels
Recipe
1. Apple filling
apples 1.8 lb (800 g) • raisins 3.5 oz (100 g)
Wash apples, peel and core them and grate coarsely. Wash raisins and soak them in water.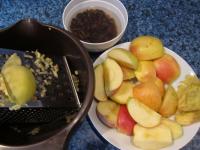 2.
rye flakes 1.5 oz (40 g)
Grind oat flakes, pour them into the apples and stir. Let them rest for a while.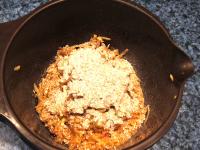 3.
sugar granulated 1.5 oz (40 g)
Mix to the apples drained raisins and granulated sugar.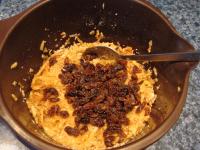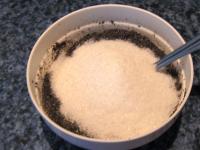 5. Puff pastry
puff pastry 14 oz (400 g) • chicken egg 1 pc
Use a rolling pin to spread the puff pastry on a floured board into a large square (40x40 cm). Brush edges and centre with beaten egg. Pour one tablespoon of breadcrumbs into each rectangle created by the beaten egg. Spread the breadcrumbs until they reach the egg.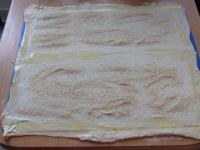 6. Filling
breadcrumbs 2 tbsp
Spread apple filling on the breadcrumbs. Place poppy seed filling on top of the apple one.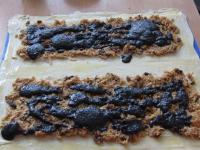 7.
Roll the puff pastry with fillings from edges toward the centre.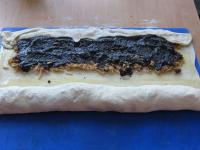 8.
Created double strudel ...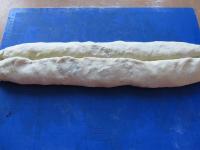 9.
... carefully transfer to the parchment paper or baking plate. Transfer the parchment paper with strudel to the baking tin. Brush strudel with beaten egg and sprinkle with poppy seeds.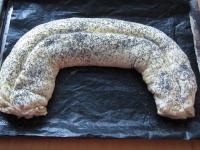 10.
Bake in preheated oven 25 minutes. Sprinkle the finished double strudel with sifted powdered sugar.
Bon appetit!