Apple pancakes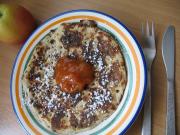 Thicker apple pancakes are served unfilled. They are filling and taste delicious lightly sprinkled with powdered sugar or spreaded with apricot jam.
recipe,photo-recipe,apples,flour medium,Crepes,Seasonal recipes
Crepes
Recipe
1. Preparation of apples
apples 1.3 lb (600 g)
Clean the apples, remove their cores and grate coarsely.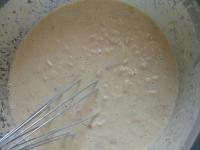 3. Baking of pancakes
Pancakes are baked in a pan without adding fat, with a pancake diameter of 18-20 cm. Bake the pancakes thicker, you need about 100-150 g of dough for one pancake.
4. Serving
Serve the pancakes sprinkled with powdered sugar or lightly spreaded with marmalade.
Bon appetit!