Avocado spread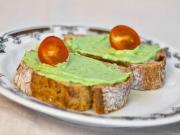 Favorite spread from avocado with slightly sour, refreshing taste. The best with fresh pastry with crispy crust.
recipe,photo-recipe,avocado,sour cream (fat 14-18%),garlic,Spreads,Gluten-Free
Spreads
Recipe
1.
avocado 2 pcs
Cut avocado into halves, remove pit and use a knife to peel the thick skin.
2.
lemon • ground black pepper • salt
Use a fork to mash the avocado with few drops of lemon juice to prevent it from browning. Add ground black pepper and a pinch of salt.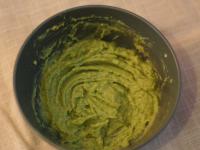 3.
sour cream (fat 14-18%) 2 tsp • garlic 1 clove
Add one pressed clove of garlic to the avocado mixture and a little bit of sour cream to soften it. Mix well.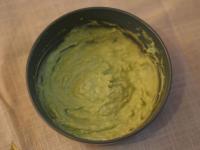 Bon appetit!