Cottage potato pancakes
Potatoes, onions, garlic and some other ingredients ... fire in the garden fireplace, cottage equipment ... and we can start :) Preparation time immeasurable and the number of portions cannot be counted :)
recipe,photo-recipe,potatoes,onion,garlic,Vegetarian dishes,Grill recipes,Gluten-Free,Lactose-Free,Seasonal recipes
Vegetarian dishes
Recipe
1.
potatoes • onion 5.25 oz (150 g) • garlic 4 cloves
Peel the potatoes, rinse lightly in drinking water and grate coarsely. Peel an onion and garlic. Cut the onion coarsely, garlic finely and add to the potatoes.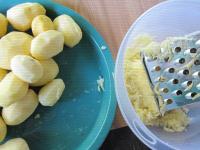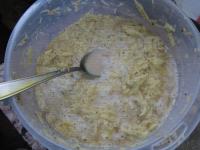 3.
Melt the fat in a pan, make pancakes ...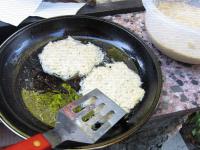 4.
... and fry from both sides. Serve immediately on paper trays to all participants staying about one meter from us.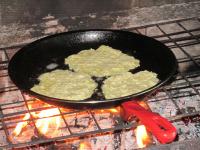 Bon appetit!