Oven-baked Potatoes with Lecsó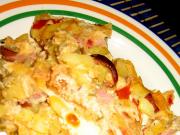 Excellent gratin potatoes with tomato-paprika flavour.
recipe,photo-recipe,potatoes,sterilized letcho,Vegetarian dishes,Gluten-Free,Seasonal recipes
Vegetarian dishes
Recipe
1.
Cook unpeeled potatoes in a salted water, let it cool, peel and cut into the small cubes (press through the potato disk for chopping of potatoes for potato salad).
2.
onion 7 oz (200 g) • sterilized letcho 1.5 lb (700 g) • smoked meat product • spring onion
Peel the onion, finely chop and add into the potatoes. Use spring onion for refreshing. Add lecsó together with brine. You can add smoked meat (sausages) chopped into the rings.
3.
pork lard • semi skimmed milk 1,5% 1.7 cup (400 ml) • chicken egg 3 pcs • salt 2 tsp • ground black pepper 1 tsp
Grease the baking dish with lard and evenly spread the potato mixture. Blend properly milk, eggs, salt and black pepper together and pour over the potato mixture. Pierce with the fork so the fluid can better soak in.
4.
Bake at 355°F (180°C) for 40 minutes, then finish baking uncovered for 20 minutes.
Bon appetit!