Sweet Potatoes and Chickpeas with Yogurt and Cucumber Dressing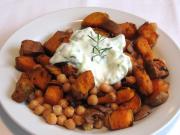 Delicious and rich vegetarian lunch or dinner.
recipe,photo-recipe,sweet potatoes,english cucumber,garlic,yoghurt natural,sterilized chickpeas,Vegetarian dishes,Vegetarian recipes,Recipes for ActiFry 2 in 1,,Gluten-Free
Vegetarian dishes
Recipe
1.
Wash sweet potatoes, do not peel them, gently cut off potential woody parts and cut them into cubes.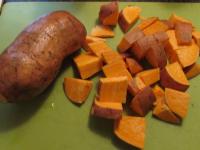 2.
Put potatoes in ActiFry pot, add oil and a twig of rosemary, select program Baking and bake for 35-40 minutes. We can even bake potatoes in the oven, placed on parchment paper.
4.
Mix yogurt with cucumber and place it in the refrigerator.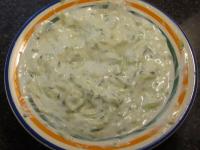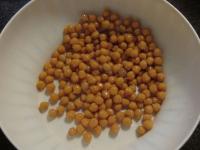 6.
... add baked sweet potatoes and mix.
7.
Split it between two plates, season it with salt to your taste and pour it over with the prepared dressing.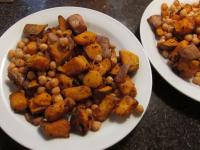 Bon appetit!