Chicken Soup with Brussels Sprouts and Homemade Noodles
Delicious chicken soup with meat, vegetables and self-made noodles.
recipe,photo-recipe,chicken backs,frozen Brussels sprouts,Meat soup,Lactose-Free
Meat soup
Recipe
1.
chicken backs 14 oz (400 g) • salt
Pour washed chicken giblets over with approx. 2 litres of water and cook. When they start boiling, skim any foam as necessary. Add salt, reduce to a simmer and cook slowly.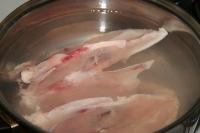 3.
frozen Brussels sprouts 15 pcs • frozen green bean pods 2.75 oz (80 g) • parsley leaves
About 15 minutes before the soup is done (when chicken giblets and vegetables are almost tender) add in the soup frozen Brussels sprouts and frozen green beans (if we use fresh Brussels sprout, cook it a little bit longer). Finish cooking and add chopped parsley leaves.
4.
When the soup is done, take the root vegetables and potato out, cut it and put it back in the soup. Take the chicken giblets out as well, pick the meat off and put back in the soup.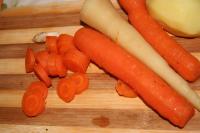 5. Homemade noodles
chicken egg 1 pc • salt • meal 5.25 oz (150 g)
Work the stiff dough from flour, egg, and salt. Use as much flour as the egg can absorb.
6.
Use a rolling pin to spread the dough on floured board, until the dough becomes as thin as possible.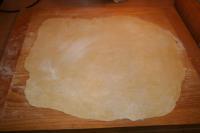 7.
Cut the dough into equally wide strips, flour them and place them on top of each other.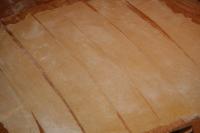 8.
Cut them into thick noodles.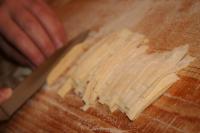 9.
Allow noodles to dry for a while.
10.
Cook them in salted water with a little bit of oil for about 2-3 minutes, unless they rise to the surface. Strain them, rinse under cold water, let them drain in a strainer and put them in the soup.
Bon appetit!