Christmas Muffins
Tender and fluffy occasional muffins.
recipe,photo-recipe,ground cinnamon,apricot marmelade,ground walnuts,chocolate topping,marzipan,Muffins,Christmas
Muffins
Recipe
2.
Then whisk the mixture properly, the best with electric mixer.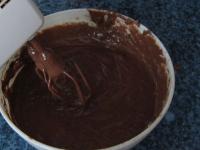 3.
ground walnuts 1.75 oz (50 g)
Stir in ground walnuts with wooden spoon.
4.
Put the dough into the paper cases placed in muffin tin almost up to top.
5.
Bake in oven at 355°F (180°C) for 25-30 minutes. Place tin on the highest rack of the oven.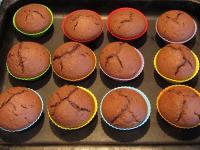 6.
chocolate topping 5.25 oz (150 g)
After baking let the muffins cool and remove them from the forms. Melt the chocolate in a water bath. Dip tops of the muffins into it...
7.
.... and let it harden in a cold place.
8.
marzipan 1.75 oz (50 g)
Roll out the marzipan on the board dusted with starch. Cut the stars. Let it harden in a cold place.
9.
Slightly wet the stars with water...
10.
... and immediately stick onto the muffins.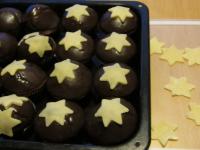 11.
Keep in a cold place. Bake the pastry occasionally and eat over 3-4 days.
Bon appetit!