Christmas Stollen
Sweet leaven cake full of tasty ingredients. Tradition says that baked stollen should rest for minimum 14 days before consumption. It is said to lead to joining of flavours.... Our stollen is suitable for consumption straight after baking. It can rest inde
recipe,photo-recipe,raisins,candied fruits,almond crisps,Sweet breakfast,Christmas
Sweet breakfast
Recipe
2.
candied fruits 3.5 oz (100 g)
Add candied fruits into the raisins, blend and let this delicacy to marinate in the rum :)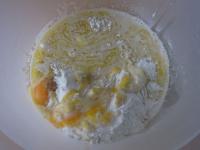 5.
Knead dough and let it raise covered for an hour in a warm place.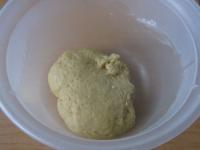 6.
Pour off the rum which is not soaked into the raisins and fruit. Drink the rum :) and add raisins with fruit into the dough.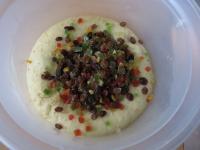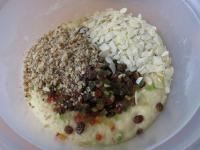 8.
Knead well again, cover and let it raise for half an hour.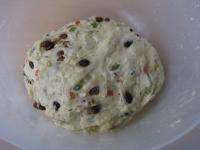 9.
Place the proof dough on the baking paper in size of the tray. Slightly roll out the dough into the oval shape. With the help of the paper fold first one and then other side into the center.
10.
Replace the stollen also with the paper on the baking tray.
11.
Cover with aluminium foil and bake in preheated oven at 355°F (180°C) for about 45 minutes. Remove the foil for last 10 minutes of baking.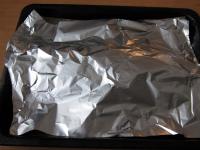 12.
unsalted butter 3.5 oz (100 g)
Spread thoroughly melted butter onto the baked hot stollen.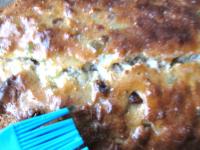 13.
Then sprinkle with sieved icing sugar so pretty thick sugar layer should be formed. Thanks to butter the sugar sticks well on the stollen.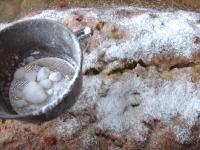 14.
Let it cool and you can serve. Keep it in a closed box.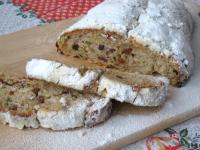 Bon appetit!