Noodles with red cabbage.
Sweet, quick dinner. Serve with sugar and cinnamon.
recipe,photo-recipe,red cabbage,Pasta,Lactose-Free
Pasta
Recipe
1.
onion 3.5 oz (100 g) • rapeseed oil 4 tbsp
Peel onion, chop it finely and fry in oil.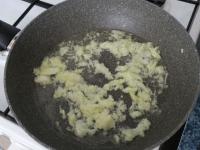 2.
red cabbage 1.1 lb (500 g)
Grate the cabbage coarsely.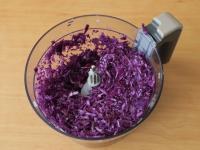 3.
Add sugar to the onion, let it caramelize, ...
4.
salt 0.5 tsp • crushed cumin 0.5 tsp • water 3.25 tbsp (50 ml)
... add cabbage, a little salt and caraway. Add water, you can add it later if necessary, if the cabbage is dry. Stir and simmer until soft (20 minutes) under the cover.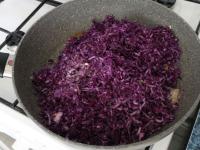 5.
pasta - patches 14 oz (400 g)
Boil the noodles in very finely salted water. Strain, rinse under cold running water ...
6.
... and add with the butter to the cabbage.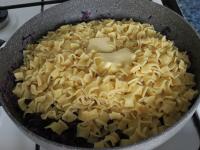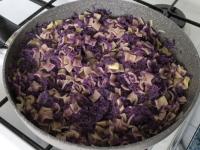 Bon appetit!