Rice pudding with chocolate apples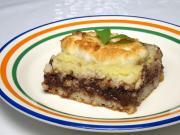 ... "yummy mom, it's a tasty dessert. And what are we going to have lunch?" ... :)
recipe,photo-recipe,milled rice,apples,Sweet dishes,Seasonal recipes
Sweet dishes
Recipe
1.
milled rice 12.25 oz (350 g) • semi skimmed milk 1,5% 1.6 quart (1500 ml) • vanilla sugar 0.5 oz (15 g)
Rinse the rice on a sieve under running water. Cook it in milk with soft sugar -in almost porridge consistency. During cooking stir often so that the rice does not burn. Let the cooked porridge cool.
3.
Chocolate Pudding - powder 1.5 oz (40 g) • water 6.75 tbsp (100 ml)
Mix the pudding in water, pour it over the apples and cook until thickened. Let cool.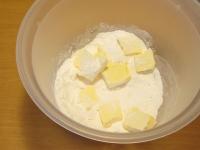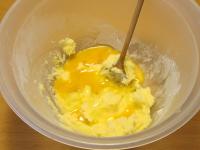 7.
raisins 2.75 oz (80 g)
... and raisins.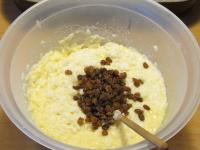 8.
Grease a deep, narrow baking dish with butter and sprinkle with flour. Spread half of the rice mixture evenly.
9.
Put apples carefully on the rice mixture so that the mixtures do not mix.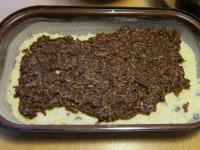 10.
Put the layer of rice mixture on the apples again. Cover and bake in a preheated oven for 40 minutes. Then uncover and bake for 20 minutes.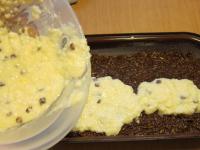 12.
Spread the egg white-coconut mixture on 12 small peices.
13.
Bake for 15 minutes. Cut and serve cooled to the consumption temperature.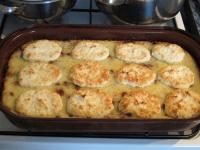 Bon appetit!