Roasted Pumpkin Hokaido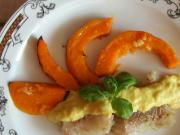 Light seasonal side dish of sweet taste.
recipe,photo-recipe,hokaido pumpkin,Vegetable sides,Gluten-Free,Lactose-Free
Vegetable sides
Recipe
1.
hokaido pumpkin 10.5 oz (300 g)
Peel the pumpkin, discard centre with the seeds and cut into the half moon slices of width cca 1,5 cm.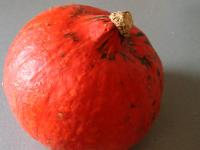 2.
olive oil 2 tbsp • garlic 1 clove
Crush the garlic and mix with the oil. Dip pieces of pumpkin in this mixture and place into the roasting dish.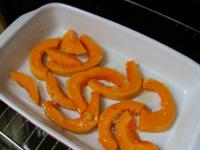 3.
Bake covered for 15 minutes at 355°F (180°C). Uncover and bake for another 5-10 minutes at 390°F (200°C) until edges of pumpkin pieces begin to colorise.
Bon appetit!