Stewed cabbage with tempeh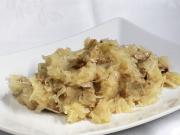 Simple recipe for stewed cabbage with tempeh suitable as a side dish to grilled vegetables, grilled cheese, or as a separate dish.
recipe,photo-recipe,white cabbage,fried tempeh,Vegetarian dishes,Vegan recipes,Vegetarian recipes,Lactose-Free
Vegetarian dishes
Recipe
1. Cutting of cabbage
white cabbage 3.1 lb (1400 g)
Remove damaged leaves from surface of head cabbage and rinse the whole head under the running water. Drain the cabbage and cut into the quarters. Chop into the thin slices, do not cut hard center - stump of cabbage. During chopping turn the cabbage the way that you cut it accross the whole head.
3.
potatoes 7 oz (200 g)
Add finely grated potatoes to the softening cabbage. Stir in the cabbage and simmer for another 20 minutes.
4.
onion 5.25 oz (150 g)
Peel onion, chop it finely and fry in oil.
5.
fried tempeh 7.5 oz (210 g)
Add sliced tempeh to the onion and fry until golden.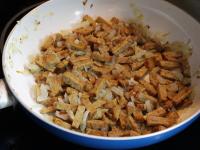 7.
vinegar 3 tbsp
Add vinegar into the finished cabbage and mix. Eventually season with salt to taste.
8.
Add roasted onion with tempeh ...
Bon appetit!