Swedish biscuits - Pepparkakor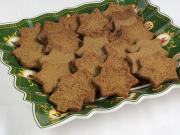 Recipe for sweet, crunchy, Swedish spicy Pepparkakor biscuits. Tasty biscuits, full of energy that will warm you up in the winter. If they do not warm you up, drink a boiled wine to them :)
recipe,photo-recipe,ground cardamom,ground cloves,ground ginger,ground cinnamon,molasses,Biscuits,Christmas
Biscuits
Recipe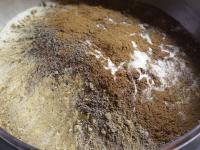 3.
chicken egg 1 pc • molasses 1 tbsp
Add eggs and molasses to the sweet butter. Mix everything together.
4.
Finally, add the flour with the spices to the butter mixture. Mix together and make a dough. Put the dough in the cold for 30 minutes.
5.
Cut forms- hearts, stars, reindeer. You can gently press any pattern on top of the biscuit. Put the biscuits on a baking sheet and bake at 670°F (355°C) F (355°F (180°C) C) for about 15 minutes.
Bon appetit!