Sweet banana cake
Tasty unbaked cake, without sugar, flour, milk and eggs. But full of healthy ingredients.
recipe,photo-recipe,banana,Cakes,Healthy cakes,Gluten-Free,Lactose-Free,No-Bake,Raw food,Vegan recipes,Vegetarian recipes
Cakes
Recipe
1.
dried plums 4.5 oz (130 g) • coconut cream 1.75 oz (50 g)
Wash the plums, check that there is no forgotten stone and put them in a bowl. Add coconut cream and start mixing with an immersion mixer.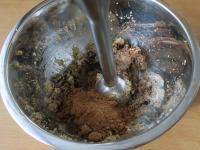 4.
Line the cake mold with baking paper. Press 3/4 of the prepared mixture into the mold. Let it freeze in the fridge.
5.
On the board roll (not thin) 1/4 of the mixture. Sprinkle with half of coconut. Put in the freezer.
6.
banana 8.75 oz (250 g) • avocado 5.25 oz (150 g) • lime sauce 1 tbsp
Peel the bananas and avocados, cut them and put in a bowl. Add lime juice and mix with an immersion mixer.
8.
Spread the cream on a dark base and let it solidify in the refrigerator for 24 hours.
9.
vegan chocolate 0.5 oz (15 g)
Melt the chocolate in a small cup immersed in hot water.
11.
Take two-color part from the freezer and cut out a small decoration from it.
12.
Take the cake out of the mold and decorate it.
Bon appetit!