Wholemeal Easter cookies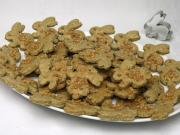 Sweet crispy cookies made of oatmeal and rye flour. Tasty and healthy for everyone.
recipe,photo-recipe,oat flakes,rye flour whole grain,rye flour whole grain,Biscuits,Easter recipes
Biscuits
Recipe
1.
oat flakes 3.5 oz (100 g)
Roughly grind the oat and put into a bowl.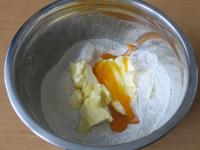 3.
Knead the dough, cover it and let it rest in the cold for half an hour.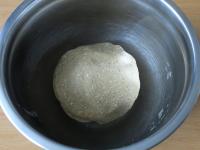 4.
Roll the dough on a lightly floured board to a thickness of 3-4 mm. The dough is slightly crumbly, especially on the edges, so you cut the cookiesbiscuits in the middle of the dough.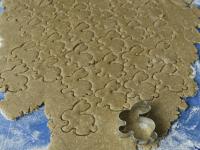 5.
Using a wider knife, place them on a baking sheet lined with baking paper.
6.
egg white 1 pc
Spread with whipped egg whites.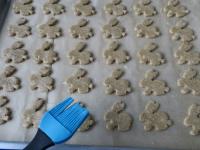 7.
Decorate it as you like (chopped nuts, etc.). Cookies in this recipe are decorated with almond.
8.
Bake for 10 minutes at 180 °C.
9.
Let the cookies cool down on a baking sheet before serving.
Bon appetit!