Baked veal schnitzel
Fine schnitzel, lightly pre-fried and steamed in the oven. Serve with potato salad, boiled potatoes, rice, or just with light vegetable salad.
recipe,photo-recipe,veal shoulder,breadcrumbs,chicken egg,all-purpose flour / plain flour,Veal,Lactose-Free
Veal
Recipe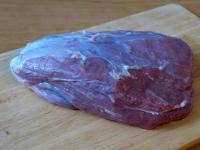 2.
Cut into 10 slices-schnitzels.
3.
Pound from both sides.
5.
Fry in hot oil from one ...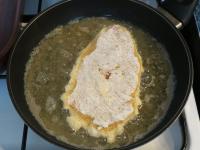 6.
... and from the other side. Put in a deep baking dish.
7.
water 1.3 cup (300 ml)
Add water.
8.
Bake in the oven covered for 30 minutes, uncover and let bake for 10 minutes.
Bon appetit!