Beef goulash with potatoes
Classic thick goulash that tastes best with fresh bread. Don't forget to drink it with a chilled beer!
recipe,photo-recipe,beef neck,potatoes,Beef,Gluten-Free,Lactose-Free,Seasonal recipes
Beef
Recipe
1.
beef neck 1.8 lb (800 g)
Wash the meat and cut it into cubes.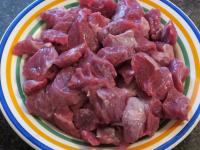 4.
Fry the onion stirring from time to time until it caramelizes (about 20-25 minutes). If it sticks, you can gradually add water, as needed.
6.
salt 2 tsp • goulash pepper 1 tsp
... and stir until the meat change the color. Sprinkle with salt, pepper ...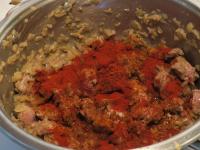 8.
water 1.05 quart (1000 ml)
Add hot water and cook under cover for 45 minutes, stirring from time to time.
9.
After 3/4 hour add the prepared paprika ...
10.
sterilized tomatoes 14 oz (400 g)
... and cutted tomatoes with the tomato puree in which they were canned. You can also use fresh tomatoes, which you first pour over hot water, peel and cut (if you use fresh ones, add 200 ml of tomato puree to them). Cook for 30 minutes.
11.
potatoes 1.8 lb (800 g)
Peel the potatoes, keep one potato whole, cut the others into cubes.
12.
Add cutted potatoes to the meat. Continue with cooking until the meat and potatoes are tasty soft (about 45 minutes).
13.
Grate the whole potato into a porridge consistence.
14.
Finally, thicken the goulash with it and overcook.
Bon appetit!