Caramel Nut Wafer (Griláž) Squares
Traditional grilaz not only for Christmas.
recipe,photo-recipe,walnuts,sweetened condensed milk,wafers,Biscuits,Christmas,No-Bake
Biscuits
Recipe
1.
walnuts 8.75 oz (250 g)
Use a knife to chop walnuts, or chop them in the electric kitchen chopper.
2.
sugar granulated 8.75 oz (250 g)
Melt sugar while stirring frequently and prepare a caramel. Melt even the smallest lumps that may be created during caramelization.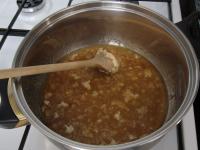 3.
sweetened condensed milk 14 oz (397 g)
Slowly pour condensed sweetened milk from the can in the caramelized sugar, stir until the milk mixture becomes melted.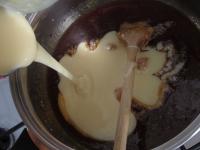 4.
unsalted butter 8.75 oz (250 g)
Add butter to the hot mixture and stir until the butter becomes melted.
5.
At the end pour in walnuts and stir the mixture well.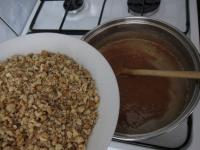 6. Filling the wafers
wafers 3.5 oz (100 g)
Place one wafer on a wooden kitchen board. Evenly spread an adequate amount of caramel mixture on it, about 3,5-4 ladles with 50 ml Volume.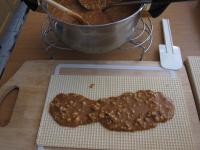 7.
Place the second wafer on the mixture and repeat the process until the last wafer is placed. Do not spread caramel on the top wafer.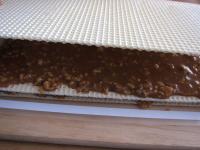 8.
Lay second wooden kitchen board on the wafers and place a pot filled with water on top. Such weighted, allow them to rest in the cold place for a few hours, overnight the best.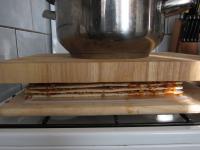 9.
Use a ruler and cut off the edges of the filled wafers with a sharp knife. Be careful and do not break the top wafer, first score it carefully and then cut the remaining wafers.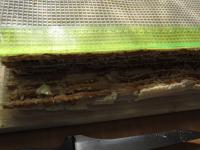 10.
Use a ruler and cut the squares.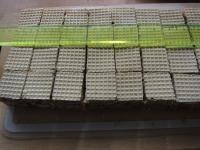 11. Decoration
Spread the surface over with chocolate and decorate grilaz for any occasion.
12. Celebrational grilaz squares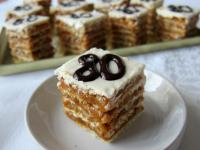 Bon appetit!