Chicken Roulade with Bread Rolls Filling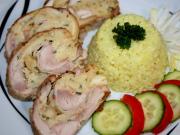 Recipe for prep of tasty roulade from boneless chicken, suitable for festive events. Recipe is more difficult because of boning of chicken, we are crossing our fingers for all beginners.
recipe,photo-recipe,chicken,white roll,bacon strips,parsley leaves,Chicken
Chicken
Recipe
1.
chicken 2.9 lb (1300 g) • salt • ground black pepper 0.5 tsp • grill seasoning 0.5 tsp • unsalted butter 0.25 oz (10 g)
Wash and bone the chicken, salt and season with pepper (you can use bones for stock prep). Scissor chicken-adequate piece of aluminium foil which must be brushed with butter. Place chicken over the foil so you get compact slice of meat.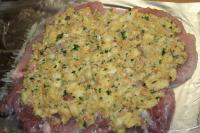 3.
Roll the roulade carefully and...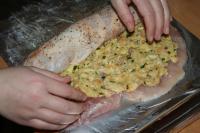 4.
...wrap into the aluminium foil and twist the ends.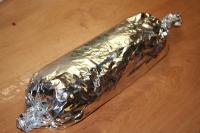 5.
water 1.3 cup (300 ml)
Bake the roulade sprinkled with water at temperature of 355°F (180°C) for about an hour, then remove the foil and bake for another 20 minutes until crunchy.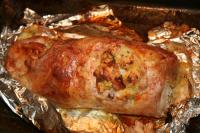 Bon appetit!