Fried cheese
A simple favorite recipe for lunch. To receive an unhealthy amount of energy, we consume it with fries :) To receive a healthier amount of energy, we recommend boiled potatoes as a side dish. Of course, with tartar sauce.
recipe,photo-recipe,semi-hard cheese with 45% fat,Vegetarian dishes
Vegetarian dishes
Recipe
1.
semi-hard cheese with 45% fat 11.25 oz (320 g) • all-purpose flour / plain flour • chicken egg 3 pcs • breadcrumbs
Cut the cheese into slices about 0.8-1 cm thick. Many stores have cheese sliced in this way or they cut it for you on request. One portion of cheese should weigh about 80g. Prepare for: 1. plate - flour, 2. plate-eggs, which you whip with a fork, 3. plate -breadcrumbs. Coat each portion of cheese on both sides in flour, egg and breadcrumbs. To prevent the cheese from leaking during frying, you can soak it in the egg again after coating it in breadcrumbs and coat it again in breadcrumbs.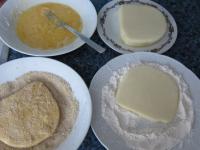 2.
potatoes • water • salt • unsalted butter • parsley leaves
Before frying, clean the potatoes, cut them into cubes and cook them in salt water. Drain the cooked potatoes, grease with butter and add chopped fresh parsley. Mix gently.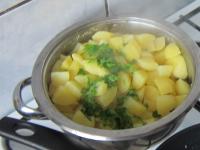 3.
Heat the oil in a pan. Fry the cheese from one side for a while (20-30 seconds) ...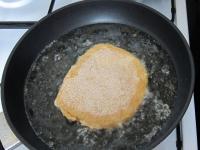 4.
... turn with a food turner and fry from the other side. Put the fried cheese on a plate and wipe off the fat with a paper towel. Serve.
Bon appetit!