Fried chicken livers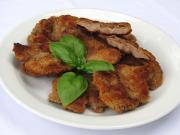 Tasty, salty, caloric delicacy :) Serve with cooked potatoes and tartar sauce, thanks which you gain weigh :) For a healthier alternative, we recommend serving with stewed vegetables.
recipe,photo-recipe,chicken livers,all-purpose flour / plain flour,chicken egg,breadcrumbs,Chicken,Lactose-Free
Chicken
Recipe
1.
chicken livers 1.3 lb (600 g)
Wash fresh chicken livers and remove the fibres (Let the frozen chicken livers thaw and wash).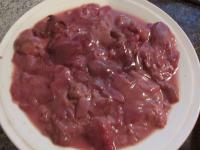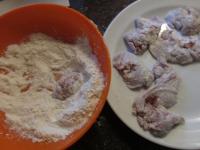 4.
... and in breadcrumbs. When coating in breadcrumbs, press them into the shape of a pancake.
5.
You can put the livers in refrigerator for an hour. They will be more firmer.
6.
Fry the pieces of liver in hot oil. After laying in oil, salt each liver, fry briefly (1.5-2 minutes), turn over and fry until golden from the other side. Put the fried livers on a paper napkin to remove excess fat. Don't consume hot.
7. Stewed vegetables
onion 5.25 oz (150 g) • olive oil 2 tbsp • carrots 7 oz (200 g) • zucchini 1.1 lb (500 g) • salt 1 tsp • tomatoes 10.5 oz (300 g)
Clean the onion, cut and fry in oil. Add cleaned and cutted carrots. Fry carrots for 10 minutes, stirring constantly. Add washed, cutted zucchini, salt and simmer with the carrots under the cover for about 10 minutes. Stir. Pour hot water over the tomatoes, cool and peel. Cut and add to vegetables, simmer shortly together.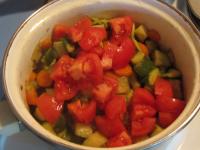 8.
Serve warm vegetables with cooling livers.
Bon appetit!