Herb butter
Mild spicy butter giving the food good taste.
recipe,photo-recipe,unsalted butter,Spreads,Gluten-Free
Spreads
Recipe
1. Roast sesame seed
sesame seeds 1 tsp • lemon-juice 1 tbsp
Roast sesame seed dry in a pan until brown. Add lemon juice.
2. Preparation of herbs
basil 2 tsp • coriander 1 tsp • chive 1 tsp • unsalted butter 4.5 oz (125 g)
Crush finely the dried herbs in a morta . Mix it with the soft butter and sesame seed.
4.
Put the flavoured butter on the plastic wrap, shape it into roller form, wrap it and put it into a fridge.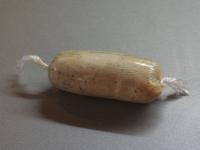 Bon appetit!