Meat salad
Traditional recipe for the legendary mayonnaise salad with salami and root vegetables.
recipe,photo-recipe,potatoes,lean salami,mayonnaise,Meat salads,Gluten-Free
Meat salads
Recipe
1.
potatoes 12.25 oz (350 g) • carrots 2 oz (60 g) • celery 1.5 oz (40 g)
Clean the root vegetables, peel the potatoes, wash and cook them in salted water.
2.
After cooling, cut it into small cubes and put in a bowl.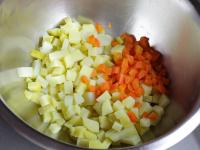 3.
lean salami 7 oz (200 g)
Cut the salami into thin strips and add to the bowl.
6.
Mix well. Store in a cool place. Serve with pastries.
Bon appetit!