Roasted rabbit liver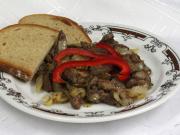 Great delicacy. Serve with fresh bread, salt as you like when served.
recipe,photo-recipe,onion,rabbit liver,Rabbit,Gluten-Free,Lactose-Free
Rabbit
Recipe
1.
sunflower oil 3 tbsp • onion 5.25 oz (150 g)
Clean and cut the onion. Heat the oil in a pan, add the onion and fry it until translucent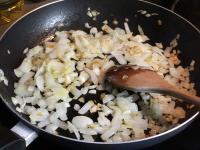 2.
rabbit liver 7 oz (200 g) • ground black pepper 0.25 tsp • marjoram 0.5 tsp • dill 0.25 tsp • thyme 0.25 tsp
Wash the liver, cut into smaller pieces and add it to the onion. Stir, sprinkle with pepper, marjoram, dried dill and thyme. Roast for a few minutes, stirring frequently.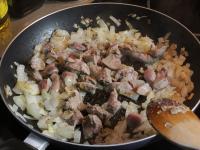 Bon appetit!