Pasta with zucchini and onion
A light dinner not only for vegetarians. Serve salted with fresh chives. This dish can also be eaten sweet, as it is already slightly sweet due to the amount of onion. Just add some sugar and cinnamon.
recipe,photo-recipe,onion,zucchini,pasta - Penne Rigate,Vegetarian dishes,Lactose-Free,Seasonal recipes
Vegetarian dishes
Recipe
1.
onion 14 oz (400 g) • olive oil 1.25 tbsp (20 ml)
Clean the onion, cut it finely and fry until golden in oil (about 8 minutes).
2.
Peel the zucchini and cut it into cubes.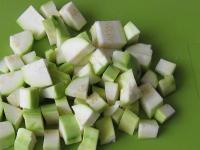 4.
salt 0.25 tsp
Add the zucchini to the onion, mix, add a little salt and simmer for 10 minutes under the cover.
5.
Mix the vegetables with the pasta and serve.
Bon appetit!