Unbaked cream curd - peach dessert
Tasty, simple dessert from popular wheat cocoa biscuits.
recipe,photo-recipe,cream curd,peach compote,biscuit cocoa,Cream deserts,No-Bake
Cream deserts
Recipe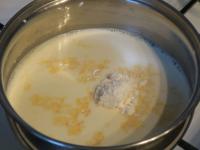 2.
unsalted butter 2.75 oz (80 g)
Add butter into the almost cooled pudding ...
3.
cream curd 8.75 oz (250 g)
...and add cream curd.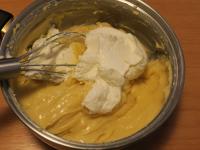 5.
... and stir it into the cream.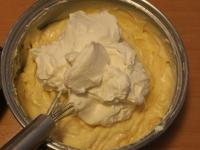 6.
Put some of the cream aside for the final decoration.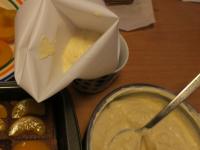 7.
peach compote 1.8 lb (820 g) • rum 1.25 tbsp (20 ml)
Pour the juice from the peach compote. Mix about half of it (150ml) with rum.
8.
Cut the peaches into slices.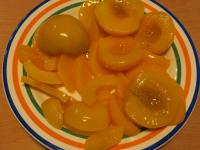 9.
biscuit cocoa 12.75 oz (360 g)
Soak one third of the prepared wheat cocoa biscuits in compote juice with rum and place them on a baking sheet in the shape of a rectangle.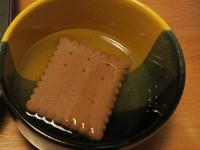 10.
Put two slices of peaches on each biscuit.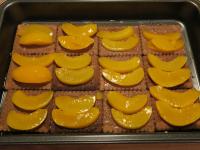 11.
Spread half of the cream.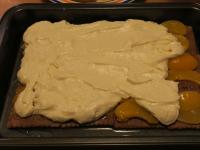 12.
Put dipped biscuits on the cream, then peaches and the other half of the cream.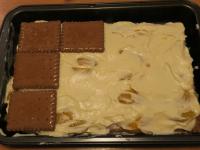 13.
Put the last third of the soaked biscuits. Decorate them with cream ...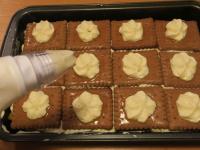 14.
... and slices of peaches. Let it cool for a few hours, preferably overnight. Then cut according to the shape of the biscuits and you can serve.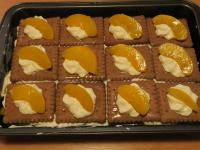 Bon appetit!