Banana Bread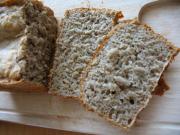 Healthy, whole grain banana bread from the bread machine.
recipe,photo-recipe,banana,all-purpose flour / plain flour,Bread,Bread maschine recipes
Bread
Recipe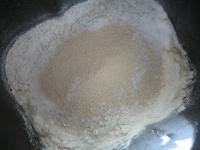 3.
Place the pan in the bread machine, select the setting and press Start. />Program: Whole grain
Time: for about 3,5 hours
Loaf size : 680 (700)g
Crust colour: pale
4.
Once the bread is done, remove the pan from the machine, but allow the bread to cool in the pan for a few minutes, then remove the bread to cool completely, the best on a wire rack. Remove the kneading blade and slice. Bread is sweetish, it is delicious with butter and honey, but also with spring onion and radish.
5. Hint
Removing kneading blade from the finished bread can be quite difficult and once you remove it, it will make a hole in the bread. Therefore, if you are in the kitchen, remove the kneading blade before the last rise and bake the bread without it.
Bon appetit!