Chickpea Soup with Milk
Delicious and healthy soup full of proteins and mineral matter.
recipe,photo-recipe,sterilized chickpeas,whole milk 3.5%,Legume soups
Legume soups
Recipe
1.
sterilized chickpeas 12.25 oz (350 g)
Soak the dried chickpeas (250 g) overnight in cold water and cook them the other day until tender. For quicker preparation, prepare the soup from canned chickpeas.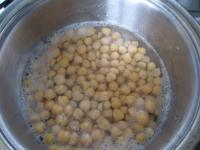 2.
carrots 8.75 oz (250 g) • unsalted butter 0.75 oz (20 g)
Peel carrot, wash it and cut into small cubes. Cook it in butter for 5 minutes.
3.
potatoes 10.5 oz (300 g)
Peel potatoes, wash them and cut and roast them with the carrot for about 2 minutes.
4.
water 1.05 quart (1000 ml) • salt 1 tsp • bay leaf 3 pcs
Pour the carrot with potatoes over with water, add salt and bay leaf. Cook vegetables until soft.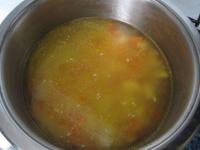 6.
garlic 3 cloves • dried onion 2 tbsp • salt
Add pressed garlic, dried onion and season with salt to taste.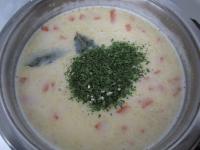 7.
Stir the soup and allow it to rest for 10 minutes, then serve.
Bon appetit!