Cream cheese and Fruit Dumplings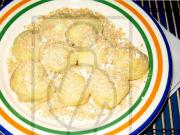 Recipe for filled cream cheese dumplings prepared in the steamer.
recipe,photo-recipe,cream curd cheese,various fruits,Sweet dishes,Steamers recipes
Sweet dishes
Recipe
2.
various fruits 12.25 oz (350 g)
Use a rolling pin to spread the dough on slightly floured board, cut it into squares. Place a little bit of fruit in the centre of each square and shape it into a ball. The fruit filling can be various compote or fresh fruit, to your taste.
3.
As soon as we have the balls prepared, grease with oil bottom and sides of the vessels of the steamer and place one layer of the balls in each.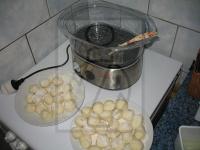 4.
Steam three vessels full of fruit cream cheese balls for 30 minutes, two vessels 20 minutes.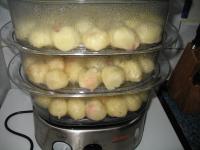 5.
unsalted butter 1.75 oz (50 g) • breadcrumbs 8.75 oz (250 g) • powdered sugar 7 oz (200 g)
Meantime, cook breadcrumbs in butter in a pan, set it aside, add sugar and stir. Pour the mixture over the warm delicacy.
Bon appetit!