Mushroom Dumplings with Bacon
Tasty and rich dumpling with a typical crosshatch pattern. Enhanced version with mushrooms and bacon.
recipe,photo-recipe,mace,mushrooms,smoked pork belly,Dumplings,Steamers recipes,Czech cuisine,
Dumplings
Czech cuisine
Recipe
1.
white roll 6 pcs • semi skimmed milk 1,5% ¾ cup (200 ml) • mace 0.25 tsp • salt 0.5 tsp
Cut white bread rolls into small pieces and roast them for about 20 minutes at 300°F (150°C) until golden. Pour milk in, add finely chopped parsley leaves , a pinch of mace and salt.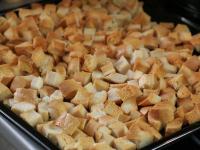 2.
mushrooms 4.25 oz (120 g) • leek 2.75 oz (80 g) • smoked pork belly 3.5 oz (100 g) • salt • ground white pepper
Cut mushrooms, leek (or spring onion) and smoked pork belly into small pieces. Cook everything in a pan until the mixture becomes coherent and greasy.
3.
semi skimmed milk 1,5% 1.3 cup (300 ml) • chicken egg 3 pcs • meal 8.75 oz (250 g)
Stir egg yolks, milk and flour and prepare runny batter, then add it to the bread rolls. Add cold mushroom and bacon mixture. At the end mix stir egg whites foam in.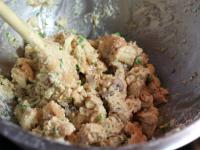 4.
Shape the dough into round dumplings and cook them in steam (in a steamer) for 20-25 minutes. You can also cook the dumplings in water.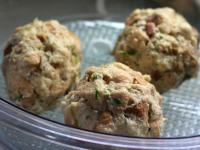 Bon appetit!