Summer potato salad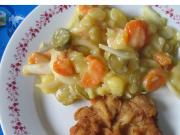 Delicious salad from potatoes and vegetable, great with fried cutlet for the hot summer days.
recipe,photo-recipe,potatoes,carrots,onion,Potato salad,Gluten-Free,Lactose-Free
Potato salad
Recipe
1.
potatoes 2.2 lb (1000 g)
Cook potatoes in their skins in water until almost tender. Pour the water out, let the potatoes cool, peel them and cut into rounds.
3.
carrots 12.25 oz (350 g) • onion 12.25 oz (350 g) • sterilized sour cucumber 7 oz (200 g)
Peel a carrot, wash it, cut into rounds and cook (preferably steam it) until tender. Cut an onion into halves, slice in halfmoons and use your hands to separate them into small pieces. Cut sterilized cucumbers into rounds.
4.
Mix potatoes, carrot, onion, cucumbers and pour them over with cool brine, stir. At the end stir mustard in. Place the prepared salad in refrigerator and stir it occasionally several times until serving.
Bon appetit!