Yoghurt Sponge Cake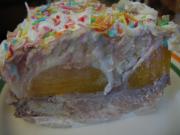 Easy no-bake cake from yoghurt and sponge biscuits.
recipe,photo-recipe,yoghurt natural,ladyfingers,fruit cocktail can,Cakes,No-Bake
Cakes
Recipe
2.
ladyfingers 12.75 oz (360 g)
Layer the sponge biscuits at the bottom of the cake pan. Pour one yoghurt on the biscuits. Place the second layer of the sponge biscuits.
3.
fruit cocktail can 1.1 lb (500 g)
Pour yoghurt with cocoa and spread fruit on top of it.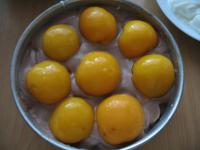 4.
Place the last layer of sponge biscuits and pour the third yoghurt on it.
5.
Place the cake in the refrigerator for 24 hours. Decorate it and serve with whipped cream.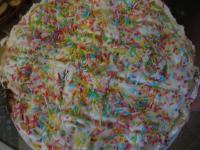 Bon appetit!