Coconut cake with stevia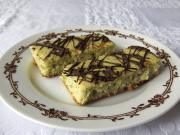 Tasty healthy cake without sugar. Fresh stevia and high-quality dark chocolate give it a delicate sweet taste.
recipe,photo-recipe,stevia - plant,acidified milk 3.6%,grated coconut,Pastry
Pastry
Recipe
1. Processing of fresh stevia
stevia - plant 0.75 oz (20 g)
Cut off the stevia leaves and the stalks in the required amount. Rinse under running water and let drain.
2.
Cut the stevia into smaller pieces with scissors and chop as finely as possible in a kitchen chopper.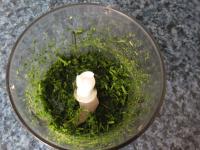 3.
water 3.25 tbsp (50 ml)
Pour a little water and mix.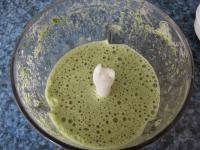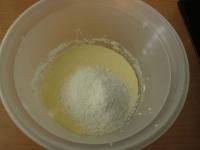 5.
Mix the prepared stevia...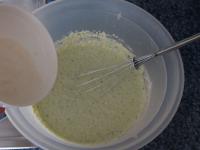 7.
Pour the smooth mixed dough onto a baking sheet (42x32 cm) greased with butter and dusted with flour.
8.
Bake in a preheated oven at 670°F (355°C)F (355°F (180°C)) for 40 minutes. After baking, cut the cake and let cool.
9.
Chocolate 85% 1.75 oz (50 g)
Melt the chocolate in a water bath.
10.
Using a syringe, gently decorate the cake with chocolate. Let the chocolate harden in the cold and you can serve.
Bon appetit!