Fried cheese - curd cheese (tvaruzek)
Fried, strongly aromatic cheese - curd cheese or Harzer cheese (natural ripening cheese) is very tasty. In our recipe, we used Harzer cheese for its significantly softer taste and not so strong aroma during frying.
recipe,photo-recipe,ripened soft cheese,Vegetarian dishes
Vegetarian dishes
Recipe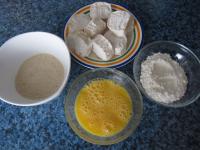 2.
Put the coated cheeses on a tray, put them in a plastic bag and in the freezer for an hour. By freezing, you prevent the spread of a aroma when frying.
3.
While the cheese is freezing, peel the potatoes and boil them in salt water.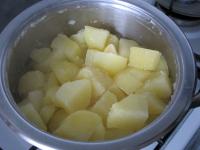 4.
After cooking, strain, grease with butter, put on a baking sheet and bake under the grill.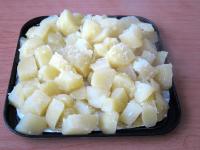 5.
Warm oil in a pan and fry the cheese ..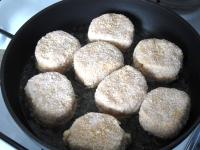 6.
...from both sides. After frying, place on a plate, not on paper. Cheese is sticky and the paper would not be removed from the cheese.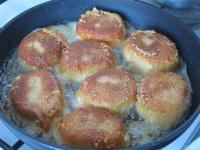 7.
Serve with potatoes and tartar sauce.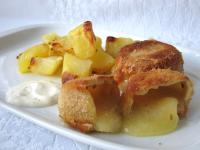 Bon appetit!