Butter potatoes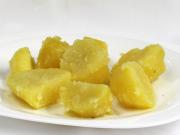 It's not complicated, just simple but tasty butter potatoes, as a side dish suitable for countless dishes.
recipe,photo-recipe,potatoes,unsalted butter,Potato sides,,Gluten-Free
Potato sides
Recipe
1. Cooking potatoes
potatoes 1.3 lb (600 g) • water • sea salt with seaweed 1 tsp
Brush potatoes, cut into a smaller cubes and put into the salty water to cook. Cook until soft approx. 15-20 minutes.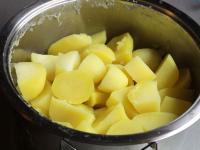 2.
unsalted butter 1 oz (30 g) • salt 0.25 tsp
Strain. Add butter, salt and mix gently with wooden spoon so that the potatoes do not fall into a pieces. They should get rounded edges and remain coated with salted butter over the whole surface.
Bon appetit!